A Charter High School is Moving Into a Former Bowling Alley Building in Arcata
Ryan Burns / Thursday, July 16 @ 1:44 p.m. / Education
For the latter half of the 20th century, the building on the corner of Eighth and K streets in Arcata was home to a bowling alley called Arcata Bowl, which included a little bar called The Pin Room. The business closed in 2001, and while longtime locals will gladly share memories of their time at the lanes, the only exterior indicator of the structure's former life is its name: The Ten Pin Building. 
Now, after spending most of the past 19 years as a nondescript warehouse, this 10,600-square-foot building is set to become a high school.
On Tuesday, the Arcata Planning Commission unanimously approved the permits necessary for Redwood Coast Montessori, a public charter school established in 2005, to renovate the former bowling alley into a campus for its ninth- through twelfth-grade students, of whom there are about 50. 
The charter school, which includes classes from transitional kindergarten through 12th grade, launched its high school program three years ago, teaching the students who'd just graduated from the elementary program. Each year since, as the oldest students advance, Redwood Coast Montessori has added a new grade. So the upcoming school year will be the first to include seniors.
Brian Little, Redwood Coast Montessori's director, said the new building is more than twice the size of the school's previous high school campus on Wyatt Lane in Arcata's Westwood neighborhood. Redwood Coast also retains its original campus in Manila for students from transitional-kindergarten through eighth grade. With the high school program expanding (its student body is expected to double to about 100 students over the next five to seven years), Little is excited to have the additional space.
"Beyond that, it's just an amazing location," he said. "It's central to much of Arcata and it's within the Creamery District." The Montessori method of teaching is very project-based, he explained, and administrators are hoping to collaborate with some of the artisans and professionals who work in the emergent neighborhood. 
The building won't require too much in the way of renovation — some new interior walls to form classrooms, a bit of work to improve accessibility and a few new windows to complement the natural light coming through the existing skylights.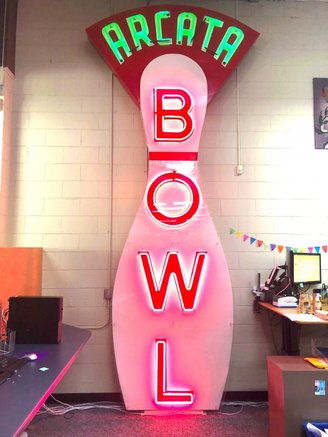 "I absolutely love the fact that it used to be a bowling alley," Little said. Building owner Tom Perrett refurbished the old bowling pin-shaped Arcata Bowl sign that used to hang outside the building. "That's definitely staying," Little said. "We love that."
Like other schools across the county and nationwide, Redwood Coast Montessori is in the midst of planning for a return to school that, thanks to the ongoing COVID-19 pandemic, may or may not include in-person classroom instruction.
Administrators are currently planning for a hybrid of in-classroom and distance learning, with students on campus at least two days a week. Little said the plan is to break students into smaller "pods" to reduce potential exposure and allow easy contact tracing in case of exposure. 
When it comes to planning for distance learning, Little said Montessori-style education has advantages and disadvantages. The curriculum is highly individualized, "so it's not very hard for us to create programs that are pretty specific to each child," he said.
But on the other hand, Montessori programs involve a lot of collaborative communication and hands-on projects, which are difficult to translate to Zoom interactions and paper packet assignments. 
"Obviously, when you can't be in the same spot, it's not impossible but it's more challenging," Little said. "One of my concerns, I worry that the work becomes a little less relevant, a little less meaningful if [students] are doing it in necessary isolation."
He's looking forward to seeing the kids again — whenever that may happen. "It will be great to have students back on campus," he said. "All of us in education really miss seeing students."
During Tuesday's Arcata Planning Commission meeting, the commissioners said the community has been broadly supportive of Redwood Coast Montessori's planned move. A few people had concerns about traffic and parking, but Senior Planner Joe Mateer said the property has close to 30 parking spots, enough to meet the standards of both the Coastal Land Use permit and the city's development guide.
Mateer's staff report also illustrated the planned path of travel for parents dropping off and picking up students — a route that follows Seventh to L Street, then north along the western edge of the property to access its two parking lots. Schools are a principally permitted use in the Creamery District, which means the project won't require any zoning changes or further public review. 
"We're very excited," Little said. "We think this will be a great step forward for our school, our students and their families. It seems like a win-win situation for the City of Arcata and the Montessori community."
What are your thoughts? Share your comments below!
more bowling videos you may like